Investment Market Update
We hope you and your family are well and have enjoyed the summer. Fall is now here, and the "new normal" continues as students head back to school, whether virtually or in person. Many of us continue to work from home.
Globally, the number of COVID-19 cases surpassed 25 million in August as reported by Johns Hopkins University. The good news is that infection rates are slowing in many parts of the world, and Canada continues to report relatively low infection rates.
Many global stock markets have recovered a significant portion of their losses from earlier in the year, and the U.S. S&P index has gone on to set new records. It may seem odd for stocks to come back while there is so much economic difficulty and uncertainty. This simply reflects the forward-looking nature of stock markets and the performance of a number of large companies that have done well despite the pandemic.
Will these gains hold or can we expect more volatility? Short-term market movements are impossible to predict. Market declines have historically been followed by recoveries and new highs – much like we saw during August with the S&P 500 and other markets. In fact, most market gains are achieved shortly after a bear market, as shown in the chart below. By staying invested, your portfolio will be well positioned to benefit from a recovery.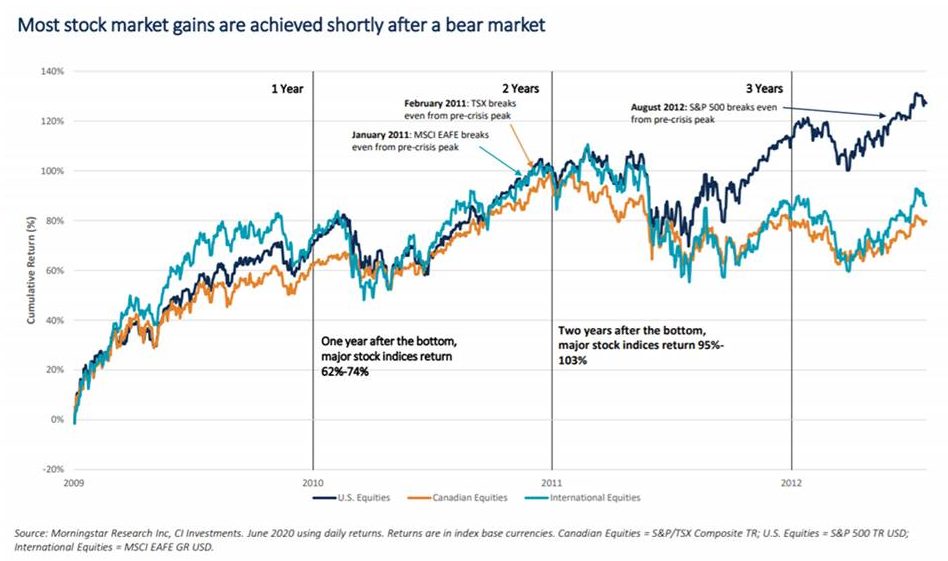 UPDATE ON THE REAL ESTATE FUND
On March 20, 2020, Canada Life suspended the real estate fund as a result of the market conditions caused by COVID-19. This was done in the best interest of investors, based on an uncertainty in the valuation of the properties held by the fund. During the temporary suspension, no transactions have been allowed in or out of the fund.
In June, they resumed valuation of the properties of the fund. Over the course of the three-month period ending August 31, each of the fund's real estate holdings were valued once externally and twice internally. The result of these valuations was a very small movement downward in the fund's value in June with small upticks in July and August.
While these valuations represented a better estimate of market value compared to the March 20 property values, the fund manager continues to look for the return of confidence in property valuations before they can lift the suspension.
When there is massive financial uncertainty, the number of transactions in large-scale commercial properties approaches zero. With the lack of comparable transactions, owners of large commercial real estate cannot be certain of its value. This uncertainty is somewhat compounded by the fact that many offices sit empty with people working from home.
What's next?
Before the suspension can be lifted there needs to be more confidence in the valuation of the properties held by the fund, and more comfort in the fund's ability to meet redemption requests. The re-opening of the economy is expected to restore investment transaction activity and provide the evidence required to increase valuation certainty. However, we don't yet have a timeframe for when the suspension may be lifted. We would suggest that there needs to be a more broad-based return to the office before owners of these properties can gauge the financial impact.
The entire property portfolio will continue to be revalued on a monthly basis, in an effort to gauge its stability.
Diversified Portfolio
It's important to remember that the Real Estate Fund is diversified by property type. Only 12% of the fund is Retail space – almost all of which are outdoor mall properties anchored by a grocery store. 60% of the fund is multi-tenant residential and industrial space – neither of which has been impacted by Covid19 realities. The fund has only a 30% weighting in commercial office space.
So far, the fund manager reports that 92% of leases are fully performing and are up-to-date. The balance is a combination of the federal rent-relief program and some non-performing retail leases.
Overall the fund's performance is still positive for 2020. As of June 30th, the London Life Real Estate Fund had $221 million in cash, was up 2.88% from June 2019 and is up 0.63% year-to-date to August 31st.
The real estate fund remains a sound investment for a diversified investment portfolio over the long term. The fund is backed by the extensive experience and talent within GWL Realty Advisors, which manages its high-quality real estate holdings and tenant base. We remain committed to this fund.
The Capcorp Team is always happy to discuss your investment plans if you feel it would be beneficial. Please do not hesitate to contact us at any time.
Join our mailing list
Sign up to receive tips and information on adding value to your business.